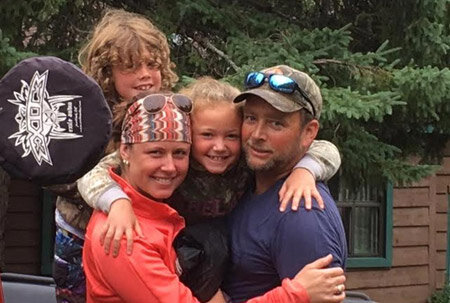 Sills Argo isn't your ordinary Argo dealership. You see…
We own Argos. We know Argos. And every day, we live and breathe Argos.
Hi, I'm Colin Crews, owner and manager of Sills Argo – that's me with my beautiful wife Lindsay and our children Colin Jr. and Ruby Jean. I'd like to thank you for visiting our web site and if you have a moment, tell you a little bit about what we do here.
I took over Sills Argo from Argo pioneers Ken and Don Sills in early 2015.
They graciously passed on their knowledge and skills to our team and we are honored to carry on the Sills name to this day.
Today, the tradition they started continues – whether it's our quick, quality, friendly service or the honesty and value we bring to every interaction, our customers love us.
As a result, Sills Argo is one of only two dealers who have received Argo's coveted President's Cub member award and we now sell more Argos in Ontario than any other dealer. We're humbled by our success, and we couldn't have done it without you.

If you're an avid outdoorsman or woman who likes to get off the "beaten path", then I welcome you to come by for a demonstration of what these amazing machines can do.
Our facility includes 80 acres of various test terrain, including a pond so you can see how an Argo "swims."
Call me at 613 922 3519 or send us an email through our contact form here.
Either way, I look forward to hearing from you!
When you buy a vehicle like an Argo, it's important to know that your dealer has the experience, the product knowledge, the facilities, the parts, inventory and the desire and determination to maintain or repair your Argo quickly with honesty and integrity. Colin of Sills Argo is the best example of the above. I have been organizing Argo Rides and riding a Sills Argo for about a decade and cannot recommend Sills Argo highly enough. In fact, I am proud to call Colin a friend.