There's no question the physical presence of the Centaur XT is remarkable, but what this amphibious utility task vehicle (UTVs) can accomplish hinges on unbelievable.
The Centaur is designed to maneuver effortlessly on any surface with its smooth skid steering, unique suspension and massive tubeless ultra-low-pressure tires. These lightweight UTVs give you big performance with as little impact as possible.
Innovative features inside and out give the ARGO Centaur XT the ability to get you, your gear, your cargo and your team anywhere on Earth.
Questions about the Centaur XT? Contact us by email or call 613-922-3519 and we'd be happy to help!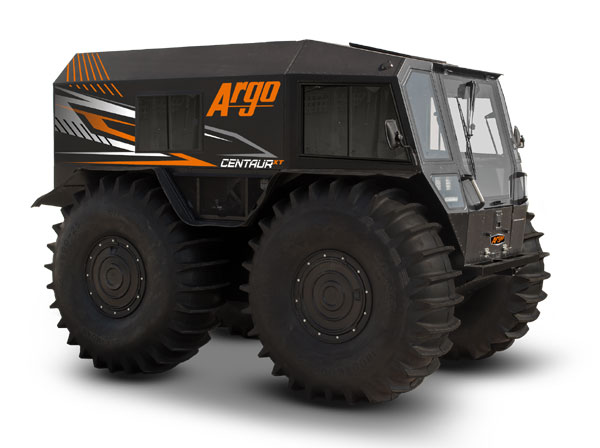 Argo Centaur XT
Got questions? To learn more about this model, including pricing and available financing options (yes, financing is available!), call 613 922 3519 or click here to send us an email!
Standard features and options:
Eco-Friendly Doosan 1.8 L Diesel Engine
Smooth Skid Steering
71″ Tubeless Ultra Low Pressure Tires
High Pressure Fuel Injection
Enclosed Final Chain Drive, Oil Bath Lubricated
Back Up Camera with Alarm
2,645 lb. Payload Capacity
5,180 lb. towing capacity
3 Point Safety Seat Belts
LED Hi/Low Beam Headlights
Bilge Pump
Standard Rearview camera
Fuel Tank Capacity: 25 gallons